40 Years of Experience in Predicting our Customers Needs
For Over 40 years, Mr Shifter has been providing friendly, professional removals services to all its customers across the UK.
One of the main reasons Mr Shifter has been so popular over the years, and continues to be a key player in the removals industry, is not only our ability to understand our customers needs and how to achieve them; But also in being able to predict what will be important to our customers move.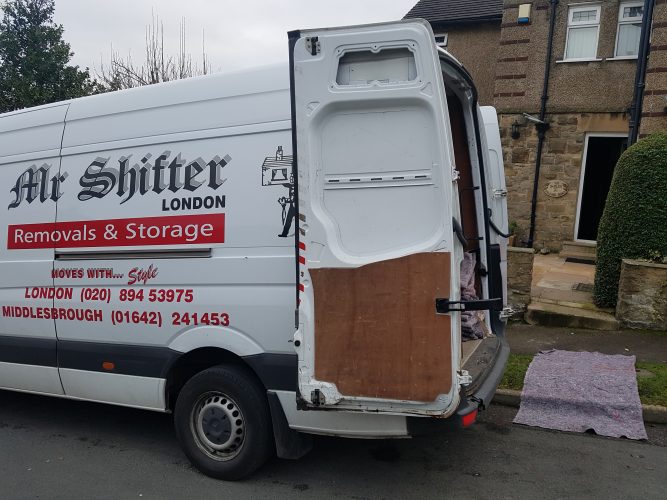 Take the picture above, our customer had asked us to bring a dining table, with 6 chairs and 2 carvers to from a storage unit in Shrewsbury to their home in Richmond, North Yorkshire.
Whilst the collect address was on an agricultural site and the dirt floor outside the container would have picked up mud, due to the robust and durable condition of sea containers this would not have had an impact on either our customers good or the container itself.
On the other hand, when we arrived at our customers home in Richmond, we had fantastic access to the property being able to park directly outside the entrance inline with the front door. One consideration we needed to take into account was that the path directly in front of the street was a grass verge. Now in Summer this is not normally an issue as the hot sun leaves the soil dry and often turning to dust as we walk across it, However in January where there has been a high rain and snowfall in the area of the past few weeks this has left the grass and soil in a soft and damp condition increasing the chances of our team picking it up with their boots and potential walking dirty footprints in our customers nice, clean home.
Our team, as always was on the ball and ensuring that we predict wherever possible of customers needs and used one of our furniture wrappers to create a clean, dirt free path across the grass and thus being able to avoid bringing dirt and soil into the customers home.
We take the same consideration in snowy and rainy weather conditions so that wherever possible we lay furniture wrappers at the entrance ways of properties to clear our safety boots as we enter and keep our customers home free from dirt.