Almost 40 Years in Professional Removals Service
Moving house can be an extremely stressful experience and without the right guidance or company to help in your removals this period can quickly increase to become an unbearable experience. However, at Mr Shifter our staff have the expertise to ensure the transition to your new home will be as smooth and hassle free as possible.
Unlike many cheap removal companies, after surveying your possessions and the scale of the job, we will provide you with a quick no obligation quote. If you require it, we can also provide a full packing service.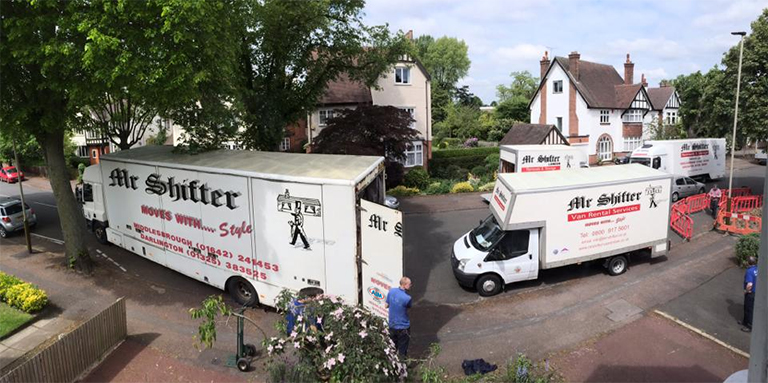 The Removal Process
With experience reaching over 40 years in the removals and storage industry our professionally trained staff are on hand to offer you the smoothest move possible. Many of our core staff have been with us now for well over 20 years and continue to play an integral part in the progress and development of the company, not to mention ensuring the highest level of service is delivered to our customers.
Our professionally trained staff will carefully handle and load your goods to be moved onto one of our many purpose-built trucks. They have been handling and transport your goods for over 40 years, and in this time have developed the skills and techniques to overcome a majority of obstacles that may occur on the day.
We offer an efficient service at competitive rates, conducted by professionally trained staff.
Before the Move
Ahead of your move, there are a few things that you can do to reduce the pressure on moving day.
Whilst packing your goods, ensure that you have a thorough clear out of your cupboards and consider disposing or recycling anything that you no longer need, this will mean that when you arrive at your new home, you have brought everything with you that need to make a fresh start. Many of our customers find this important as it gives them the opportunity to let go of anything they are holding on to unnecessarily. The most common area that is often de-cluttered before the move is the loft, many customers agree that apart from a few small goods that are up there for long term storage, many of their loft goods have been up there for years and are no longer needed.
Label your boxes, and ensure that you have an overnight box with all the essential items that you will need to be able to locate quickly once at the new address, consider taking this box with you on the day and also ensure that any important documents and forms of identification are kept with you on moving day.
On the Day
On the day of the move, Greet your removals team when they arrive and take a quick tour of your current home with them, highlight to them everything that needs to be removed from the property and ensure they are aware if anything is not to be taken from the property.
During this quick tour our removals team will inform you of any issues they foresee during the collection process, this may be a simple matter of tight access for certain goods, or furniture that may need to be dismantled to be removed effectively. This is for your benefit as well as ours to ensure there are no issues later in the day.
Our team will begin by removing the full goods and content from one room, once this is complete, this will give you an opportunity to have a quick clear and clean of this room to leave it in good repair for its new occupants. Once the property has been fully emptied, our team will invite you to take a quick walk around of the collection address and ensure that everything you needed collected is loaded.
Once our team arrive at the new property we will begin in the way that we did at the collection address and take a short tour of the new property, this will be to introduce us to the layout of the property and understand where you goods will be delivered to at your new home. Our team will deliver the goods as they were collected from your previous address, and if you do need any items placed in new locations, let our team know this and they will make the necessary adjustments.
Once the truck has been fully unloaded, our team will invite you to inspect the back of the truck to ensure everything has been unloaded and that no goods are left on the truck.
Before we leave, our team will re-erect and re-connect any goods that we have dismantled, unless otherwise stated and instructed.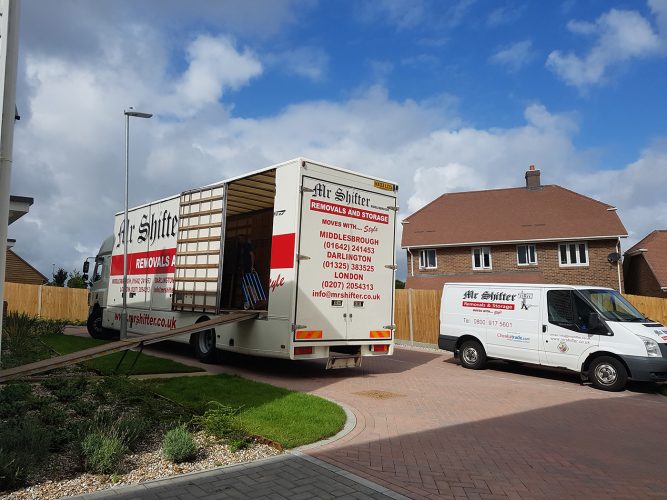 Our Removals Fleet
Here at Mr Shifter we have a wide range of purpose built removal trucks to carry out your move in and around London. Specially designed for the loading and transport your furniture and goods. We have a wide variety of size trucks for your move, and they are adaptable to most common property accesses, all our removal trucks are fitted with ply-bars to ensure that your furniture can be fastened off to protect them from movement in transit.
In addition our trucks are fitted with the capacity to hold, transport and handle your goods into storage. We are able to load our purpose built storage containers directly onto our removals trucks, load and unload the content at your property to reduce the frequency in which your goods are handled that could lead to damage.
For those smaller jobs around town, our fleet include a variety of medium vans to handle everything from a single/multi item to a part load removal, we can support your move. We can even offer cost effective options for small long distance removals.