How Winter Weather Conditions Affect a Removal Service
When it comes to working in the snowy and icy conditions it can add an element of risk to most removal services. This is escalated when additional elements are added such as external stair cases and long carries. Now while both of these can be easily managed in normal weather conditions, when you add these weather conditions to the situation it can create a very risky situation for our team.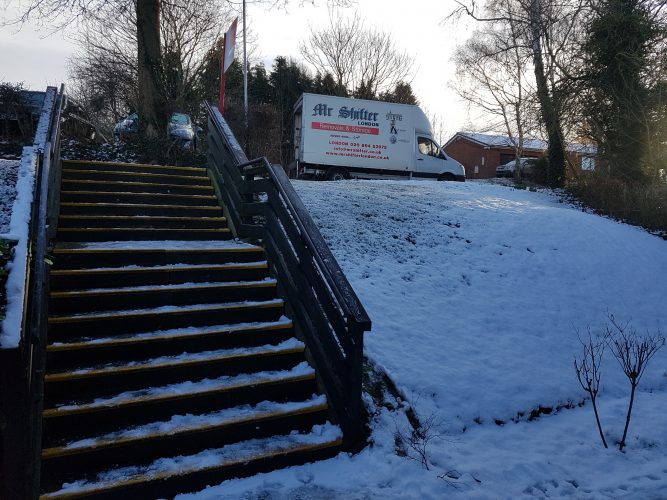 All of Mr Shifters employees are provided with Steel-Toe, anti-slip Safety boots and trainers, this reduces the possibility of any accident or injury occurring on the path or the steps due to the snow and the additional grip on the boots helps to find a stable footing for our team. In addition to this the external stair case itself has been pre-fitted with anti-slip strips across the edges of each individual step. This allows our team to tread with more confidence when trans versing these stairs.
In terms of the move itself, one of our two man teams carried out the removal in one of our Luton vans, the client was based out of a ground floor flat, though the property was a two bedroom property our customer was only taking the contents worth of one bedroom and the living/dining room set. As she lived by herself and her family was close-by there was no need for her to bring bountiful amounts of furniture to accommodate overnight guests.
Included in the living room set was a 3-piece leather suite, given that this particular suite did not have the option of removable cushion this presented a difficulty in terms of access and getting the suite out of the property. What our team opted to do was to remove the sofa feet attached to the suite; this would reduce the risk of any walls and doors getting marked as the suite was moved and provides a small amount of additional manoeuvrability. In addition to this, our team removed any obstacles from the main hallway that would limit their path of access through the flat, this included a purpose built radiator cover that could have caused the suite to get lodged between the walls of the hallway.
Once these difficult items were removed from the property the team made swift work of the remainder of the removal.
If you are looking a friendly, professional, safe removals firm to carry out any of their removals needs; then your best choice, your only choice, should be Mr Shifter Removals and Storage.