Mr Shifter Removals London – Keeping our Trucks on the road
Here at Mr Shifter (London) Removals and Storage we operate a fleet of 6 HGV vehicles and 6 LGV vehicles across 2 depots across the UK.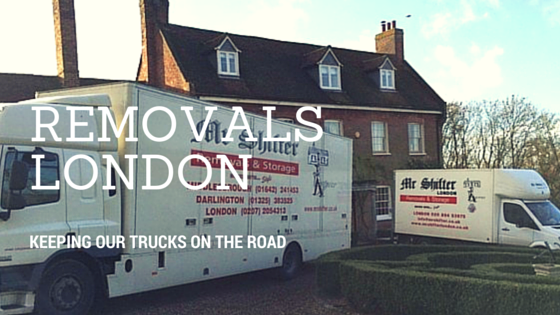 "Here at Mr Shifter we have a wide range of purpose built removal trucks to carry out your move in and around London. Specially designed for the loading and transport your furniture and goods. We have a wide variety of size trucks for your move, and they are adaptable to most common property accesses, all our removal trucks are fitted with ply-bars to ensure that your furniture can be fastened off to protect them from movement in transit."
Due to the size of our fleet and the distance between our two operating depots we operator 2 separate maintenance contracts to ensure that our vehicles are performing to the highest possible standard.
Our removals trucks cover many thousands of miles each year across the scope of the United Kingdom, because of this we need to ensure that when our teams take our vehicles on these long distance journeys that we are covering as many possible vehicle issues as possible to reduce the risk of any unavoidable breakdowns occurring in transit.
All of our removals trucks under go regular service and inspection Every 8 weeks to identify and correct any possible issues occurring during your removal. In addition to this we have 2 separate contracts for tyre Maintenance and replacement to ensure we are not travelling with unsuitable tyres that are unable to handle the weight or distance of your move.
Our drivers carry out daily vehicle checks to ensure any day to day running issues can be reported to our office and resolved in a timely manner.