How Do I move my Piano?
Moving house can be a stressful time in a persons life, with many of us only going through it only once or twice.
Mr Shifter has been in business for over 40 years and we bring that wealth of experience and practice to every move we do.
That is why when it comes to arrange your home move, even when looking to have a Baby Grand Piano moved, you are in safe hands by choosing Mr Shifter Removals.
All of our staff are fully trained on the safest and most practical way to prepare, protect and transport your furniture.
Preparation is key
When it comes to moving Baby Grand Pianos they key to a smooth move is all in the preparation.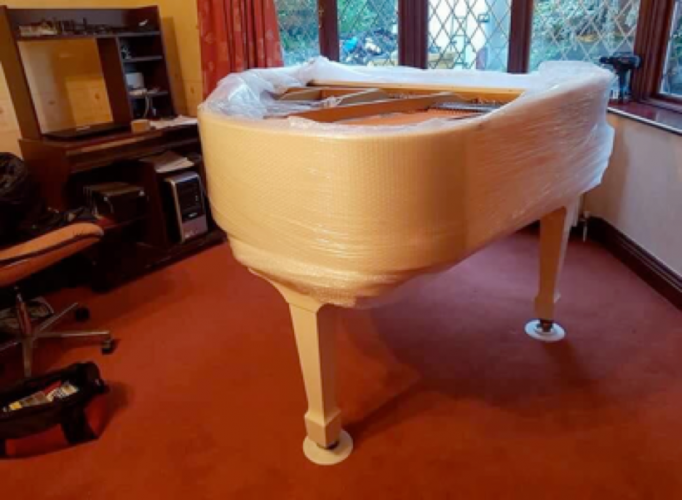 With this Piano, one of the identifying factors is the high gloss white finish to the entire piano. To ensure that no harm or damage came to this Piano, before our team moved the Piano, the entire casing was wrapped in a layer of pallet wrap, two layers of bubble wrap and a further layer of pallet wrap to provide the best possible protection.
All of the External fixings were individually removed and bubble wrapped before loading including the feet.
To ensure the side of the piano is protected during transit, the Piano is lowered onto a Piano Skid, this acts a supportive shoe to protect the Piano and assist our team in providing a stable to base to lift and control it from. To prevent injury the Piano is also wheeled in and out of the property by a set of rugged purpose design Piano wheel, designed to safely carry and control the weight of the Piano.