What were our boys up to last week
Last Friday our team were working in Hoddesdon, Herfordshire. I went out to meet a customer a week before, they had originally moved down from the North.
When I originally sat down with Miss N. She explained that they were planning to move more permanently down to Twyford when they originally moved from up north, although the property was not yet ready and her partner needed to be close to the south to start work near Twyford.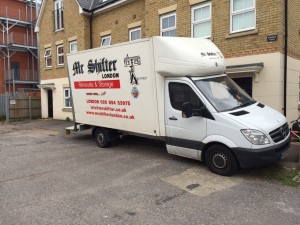 Nether the less, they found a suitable Short Let in one of my favorites, Hoddesdon. It is close to the main town of Hertford and an easy drive down the A10 takes you into London.
Mark and Gavin from our London team visited the property on Friday to begin packing the flat ready to be moved. Miss N had originally moved all their belongings down themselves with several journeys. Though having made a number of trips to do this, wanted to get the professionals in this time to handle the removal and also the packing to ensure all her belongings made it to the new property in perfect condition.
Below we have Gavin from our London team, carefully packing Miss N's kitchen ware. as well as individually wrapping each item, it is important to ensure the boxes itself is lined to provide suitable padding from all areas.
If you have a removal planned in the Hoddesdon or Broxbourne area, give our office a call to arrange your Free removal estimate.